Marketing Bestseller, all new 2015 Edition
Now Available!
Complete Your Collection!
Previous Editions Available
HERE!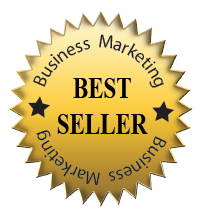 Now available in Print, PDF, and Kindle editions!
2016 Edition Coming Soon!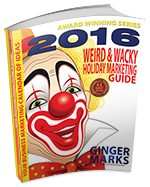 Brian Judd Loves the Weird & Wacky Holiday Marketing Guide too!
Give the gift of Entrepreneurial Success,

even in a recession,

to someone you know

. . . or maybe even

YOURSELF!
AMAZON BESTSELLER MARKETING CATEGORY!

Now you can enjoy this inspiring business marketing calendar to use as your FIRST RESOURCE for marketing your business all year round.

With the annual Weird & Wacky Holiday Marketing Guide as your business marketing resource every day of the year can be used as a reason to market your business.

Put the FUN back into your business' marketing plan with the Weird & Wacky Holiday Marketing Guide now available in your choice of platform.

Each month I will be sharing one additional insight. Be sure to check back to get your Bonus Idea!

Get your copy today, and make this year your year to shine!
Get a

WHOLE YEAR

of Marketing Ideas!
2015 Edition Now Available in
PDF for $19.97, Kindle for only $9.97,
and in PRINT for only $39.95!
Every day you delay putting your marketing plan in action costs you customers and income.
Put the FUN back in your business!
Get your 7th Edition (2015) PRINT copy today!

2015 Kindle Edition
2015 PDF Edition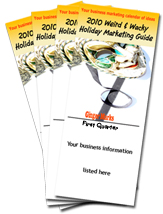 Would you like to share the HMG Book as brandable quarterly booklets with your clients and friends? Contact Ginger to find out more. As a bonus, you will receive one copy of the companion resource guide. Send a quick email to support@HolidayMarketingGuide.com.
Do you want to brand your business with Custom Card Covers? Browse our portfolio here.
GINGER MARKS
PUBLISHER/DESIGNER
DocUmeant Publishing
244 5th Avenue,
Suite G-200
NY, NY 10001
646-233-4366
www.DocUmeantPublishing.com
1730 Rainbow Dr
Clearwater,FL 33755
727-515-8500
www.DocUmeant.net
www.DocUmeantDesigns.com