Recession Proof Your Business with
Amazon's

MARKETING eBook
Weird & Wacky
Holiday Marketing Guide
All New! 2013 Edition now available!!!
First time ever this edition is available in Paperback! See below . . .
---
Make 2013 your year to shine

Ginger Marks, Author

Listen in on the WECAI interview
With the 2013 Weird & Wacky Holiday Marketing Guide as your business marketing resource every day of the year can be used as a reason to market your business. See what others are saying...
Praise for The Weird & Wacky
Holiday Marketing Guide

"The best way to create buzz and word-of-mouth advertising is to tie your book in to a special marketing period or holiday. This book will give you the edge on your competition, get you more time on the air, help you sell more books—and you will have more fun doing it."
Brian Jud, author of How to Make Real Money Selling Books (without worrying about returns)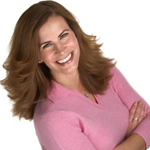 "This is definitely a weird and wacky marketing guide packed full of funny, creative insights and suggestions that expand the reader's world. My two favorites are: National Compliment Day and Inconvenience Yourself Day. Both of which speak to the power of random acts of kindness that have the ability to light up the world! A very catchy read; enjoy!"
Lauren E Miller, CEO Microwave Stress Solutions, Inc. Stress Relief Expert/Best Selling Author/International Speaker www.laurenemiller.com

"In sharing her experience Ginger Marks has led many entrepreneurs to achieve tremendous success. The tools that so many of us require can be as simple as this incredible book that gives us opportunities to "touch" our clients. The more you touch your clients, the closer you keep them which translates into loyalty, and loyalty translates into sales. As an entrepreneur, we need to stay close to our clients and with this wonderful book, we can feel good about reaching out to them knowing that we are touching them with what really matters to them. The Weird & Wacky Holiday Marketing Guide is a great reference for all business owners to take advantage of every single day of each month. Thank you Ginger!"
Helen Georgaklis
Empire Media Worldwide, Inc.
http://empiremediaworldwideinc.com

"Having been involved in marketing as a sales manager and business owner, I rave when I run across a book like the 2013 Weird & Wacky Holiday Marketing Guide by Ginger Marks. When you can do marketing around things like the Bad Poetry Day, Say Something Nice Day, Lips Appreciation Day (one of my favs), Duct Tape Day (who knew all the colors and patterns?), Plant the Seeds of Greatness Day, Thomas Crapper Month (Yes, he got a whole month!), Bubble Bath Day, just to name a few, it makes marketing FUN! More important, when marketing is FUN, it is likely to not only get done, but be effective too. Get this book which is renewed each year. I plan to give one to every one o f my clients!"
Terry Minion
Upward Trend Management Services, LLC
Commercial Truck Dealer Success

Every day you delay putting your marketing plan in action costs you customers and income. Recession Proof your business and get your copy today!
And here's yet more praise for this phenominal eBook!

What a great item! I have looked for something like this for years and now I have found it. The 2013 Weird and Wacky Marketing Guide provides all those holidays that you wish you knew so you could promote your product with a tie-in. Did you know that March 28th is Teachers Day. Or how about May is National Bike Month or that June 12-15th are Ice Cream Days.

Ginger Marks provides you with daily, weekly and monthly Wacky Holidays and some great marketing ideas to go with those holidays too! Love it. An absolute must for anyone hoping to utilize holiday marketing.

Sam Hendricks, author Fantasy Football Guidebook and Fantasy Baseball for Beginners


I'm just glancing at the content, WOW what a phenomenal marketing tool. Love the info presented and, because I am a SB Development Specialist, I see potential sharing this info with other small business owners throughout my community. Thank you for asking me to review the book. It is a Treasure Chest of marketing ideas. I love it. It is laid out so well and for me, a person who also is thinking of doing something different, I find the book a most excellent resource guide.

Sandra Lynch
The One Page Business Plan Consultant, bookkeeper, and tax preparer

"Everyone with a business to market should have a copy of this Marketing Guide...you will never again be left wondering what to plan the next promotional campaign around. Just glancing through January and February I plucked a few ideas to work with.

National Hot Tea Month ( Jan ); Universal Letter Writing Week-Jan 8-14; Women In Blue Jeans Days-Jan 20-22; and Feb 24-National Chili Day...

What I noticed the most about this guide is the broad range of coverage...no matter what your business , there are so many ways to use the guide..and to promote other businesses at the same time...a double plus!

What's not to love??"

Bea Kunz
Sage Hill Farms
EatWell-BeWell~
http://www.sagehillfarmsandvintagestore.com
http://beasbeatitudes.blogspot.com 931-438-8328

Available NOW in PDF for only 9.95!

| Kindle for $7.99 | | Paperback for $29.95 |
| --- | --- | --- |

Also available on Smashwords!

---

2012 Edition available

PDF (5.95 US)

or (4.99 US)

Still Available the Inagurial 2009 - 2011 Editions

Get all three for only $15.00!

(PDF version only)




Order yours today!

or e-mail Orders@HolidayMarketingGuide.com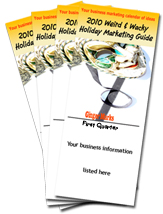 Would you like to share the HMG Book as brandable quarterly booklets with your clients and friends? Contact Ginger to find out more. As a bonus, you will receive one copy of the companion resource guide. Send a quick email to orders@HolidayMarketingGuide.com.
Do you want to brand your business with Custom Card Covers? Browse our portfolio here.
How about a bit more fun? Try this new Wine Paring Wigit. Add it to your website too for easy access.
WinedIn - Pair Food and Wine
GINGER MARKS
PUBLISHER/DESIGNER
DocUmeant Publishing
14 Wall St 20th Floor
NY, NY 10005
646-233-4366
www.DocUmeantPublishing.com
1730 Rainbow Dr
Clearwater,FL 33755
727-515-8500
www.DocUmeant.net
www.DocUmeantDesigns.com